An Interview with Farrah Qazi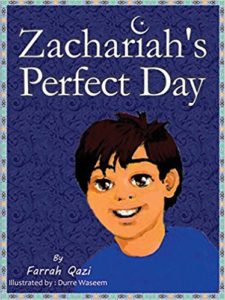 Farrah Qazi is the founding attorney and owner of Qazi Law Offices. She received her Juris Doctorate from DePaul University Law School and her Bachelor of Arts from Loyola University Chicago, where she majored in Political Science, with minors in English Literature and Spanish Language and Literature. Her book Zachariah's Perfect Day was published in 2016. Through her books she hopes to foster better communication open dialogues about diverse cultures and traditions.
Q. What made you enter the very competitive field of kidlit?
I have always loved writing. I used to write stories when I was a kid myself. Then I graduated to writing for school literary magazines and then being editor of school and college newspapers. But in the back of my mind, I always wanted to write a published children's book. More specifically, I wanted to write stories that resonate with multicultural topics and diverse individuals.
Q. What is your educational background and has it helped you in your writing career?
I am a lawyer now. But I took journalism, English and literature classes throughout my educational career. I devoured books and still do. I couldn't get enough of reading and writing. Once I had kids, I was re-introduced to the world of kid lit and would spend hours in the library and bookstores reading and comparing various children's books.
Q. What are your hopes for Muslim children's literature and where do you see yourself in those dreams?
I saw a real gap in diverse literature that showed characters like my own kids. I want Muslim children's literature to be fun, exciting, adventurous. I also want there to be well-written, easy to read books that explain the religion, culture and traditions to others without being didactic or patronizing in the process. I would love to write more books with Muslim characters. I want some to be funny and whimsical and others to be page-turning adventures the kids can't put down. We have a wealth of stories to choose from. Our imaginations are endless. Having Muslim characters in our books shouldn't limit those possibilities.
Q. What have been some challenges as you have written, published and promoted your book?
There have been many. First, there's the voice you want to project. For Zachariah's Perfect Day, my goal was simply to introduce the concept of fasting and Ramadan to young Muslim kids and other faiths as well. I wanted it to be non-threatening and to show some of the joys that transpire during this blessed month. So first I wrote and rewrote and rewrote again the text. Then, finding an illustrator took a long, long time. I worked with her for about one year to get the pictures done correctly. Since this was self-published, I then had to handle the editing, layout, placement, binding, and printing. And lastly, has been finding the time to promote this book along with my job as a lawyer and being a mom for four kids. It's been a wonderful, challenging learning experience.
Q. Are you working on any new writing projects?
Yes, I have a book I desperately want to get published, about an American girl who donates her shoes to a Syrian refugee. I am in the beginning stages of publication of a book loosely based on Angels, and I have been writing an adult book for women struggling to find their voice and reclaim their legal rights. There are a lot of ideas floating around in my head right now.
Visit Farrah Qazi's website or the Amazon page for Zachariah's Perfect Day.