Book Review: The Prisoner of al-Hakim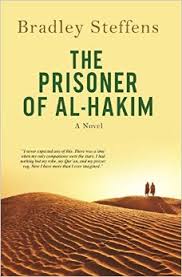 If you're into physics you may know the name of the 10th century mathematician, philosopher and scientist Ibn al-Haytham, most commonly known as the father of optics. If you're more into fiction and do not wish to read nonfiction texts about ancient scientists, then take heart. The story of Ibn al-Haytham has now been fictionalized masterfully by Bradley Steffens in the new book The Prisoner of al-Hakim.
The novel is engaging and an easy read. It is recommended that one have some knowledge of the eventful life of Ibn al-Haytham in order to fully appreciate the fictionalized plot, but that is not required. It stands on its own in terms of exciting storyline, interesting dialogue and well-written prose. Even readers who have never heard of Ibn al-Haytham before will be pulled into the action of the story and perhaps even develop an interest in the scientist's real achievements.
The story begins with the kidnapping of Ibn al-Haytham by a man sent by the Caliph of Cairo, al-Hakim. From Basra the caravan of kidnaper and victim travels to Egypt where Ibn al-Haytham is tasked with the impossible: damming the river Nile. Each character is well-crafted and in-depth. Each chapter includes action-packed adventure. Ghosts, superstition, murderous robbers all mingle to form a delightful mix. At the same time, fans of history will appreciate the descriptions of Cairo and Basra, the esteemed House of Wisdom, even the deserts forming the backdrop of the book. There are plenty of women with strong, independent spirits, and many men in whose hearts burns the love of both God and science. And expectedly, Ibn al-Haytham's final and his most momentous discovery takes center stage in this novel.
Award-winning author Bradley Steffens is well-suited to writing a historical novel. He has already authored more than 30 nonfiction books for children and young adults, including Ibn al-Haytham, First Scientist. The Prisoner of al-Hakim is his first work of fiction and is available on Amazon here.