The Greatest Race Engages Kids of All Cultures
Longer chapter books are a rarity these days, so The Greatest Race by A. Lawati offers much to young readers in terms of content and readability.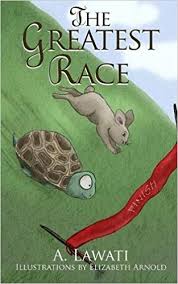 The story is interesting in that it can be taken as a sequel to the great race, which every child has heard about. The race between the tortoise and the hare is a staple storytelling tool for generations, and children of every age and every culture enjoy. Lawati has put a twist on the story: the race in his book is the original race for these characters, the Origin Story as anthropologists may call it.
In this book, the main characters are rabbits and tortoises, all living together in Yosemite Natural Park. The rabbits are local to the region, but the tortoises are transplants from the Indian subcontinent. They argue over the legendary race between their ancestors that decided the natural order of things, when the hare despite his speed was left behind by the wise and patient tortoise. Now, the rabbits want a rematch, and the tortoises know they cannot repeat the luck of their ancestor with any precision.
Lawati has made an old story live again with new characters, exciting adventure and relevant themes. In the backdrop of The Greatest Race children will learn more about working together, developing patience and thinking outside the box. Muslim children in particular will appreciate the familiar names of the characters. Appropriate for children aged 7-10 years, or perhaps even higher, this short book will be sure to please, entertain and educate.
The Greatest Race can be bought on Amazon .